Single Phase Pad Mounted Transformer
Daelim is a professional Single Phase Pad Mounted Transformer manufacturer with UL/cUL CSA
DOE Standard
CAN/CSA -C227.3
ANSI/IEEE Standards
Up to 34.5 kV
Power rating up to 250 kVA
Contact Daelim
Single Phase Pad Mounted Transformer
---
Single phase pad mounted transformer fully complies with and exceeds ANSI, DOE, IEEE, and CSA standards. With UL/cUL, CSA listing. Mild steel, optional stainless steel tank Capacity: 15-250kVA Primary Voltage: 34.5kV-19.92kV, 24.94kV-14.4kV, 13.8kV-7.957kV, 13.2kV-7.62kV, 12.47kV-7.2kV or others Secondary Voltage: 120-240V, 240-480V, 347/600Vor others Loop or Radial Feed Configuration Insulation Fluids: mineral insulating oil, Envirotemprm FR3TM fluid H.V.TAP RANGE: 2x2.5% or others BIL: 30V-150V ANSI IEEE, DOE, CSA, and NEMA or other Standards Fast delivery of 4-8 weeks. The production capacity of more than 800 units per month. Various well-known brands of accessories (ABB, Eaton, Qualitrol, ect.) are available for you to choose.
Single phase pad mounted transformer
A single-phase pad-mounted transformer, also known as a residential transformer, is a compact and enclosed structure designed for outdoor installation. The transformer is a sealed structure, and its high and low-voltage facilities are installed side by side in the cable entrance compartment. The transformer tank has a protective flap cover. The cable entrance compartment uses a padlock in accordance with ANSI C57.12.28 to lock the unit. The residential transformer is tamper-resistant and weather-resistant.
Daelim offers a single-phase pad-mounted transformer with a two-fuse system, providing enhanced safety and protection. Here are some key features
1. Multi-standard design (ANSI, IEEE, CSA, DOE, NEMA, etc.);
2. Safe, reliable, and environmentally friendly(UL, cUL, CSA listed);
3. Customizable (dual-voltage, voltage, power rating, etc.);
4. ONAN, KNAN and LNAN.
Send Inquiry Now
Optional accessories and features
You can choose single phase pad mounted transformers following optional items according to your needs:
an anticorrosion skirt for high contaminated areas;

drain plug and filler plug;

load-break switches;

provision for padlocking of load-break switches;

stud-type or spade-type low-voltage bushings;

load-break inserts complete with dust cap;

2 foundation clamps arranged;

high-voltage taps;

an impulse test according to ANSI/IEEE C57.12.90;

permanent and/or temporary barcoding label according to ANSI/IEEE C57.12.35

minimum impedance to limit the short-circuit current at the service equipment as follows:

(i) 75 kV•A: 2.0%; and

(ii) 100–167 kV•A: 2.5%;

oil level sight gauge located so as to ensure safe operation of the load-break switches;

load-break switch nameplate;

fire-resistant fluid in place of oil(KNAN or LNAN)
Get More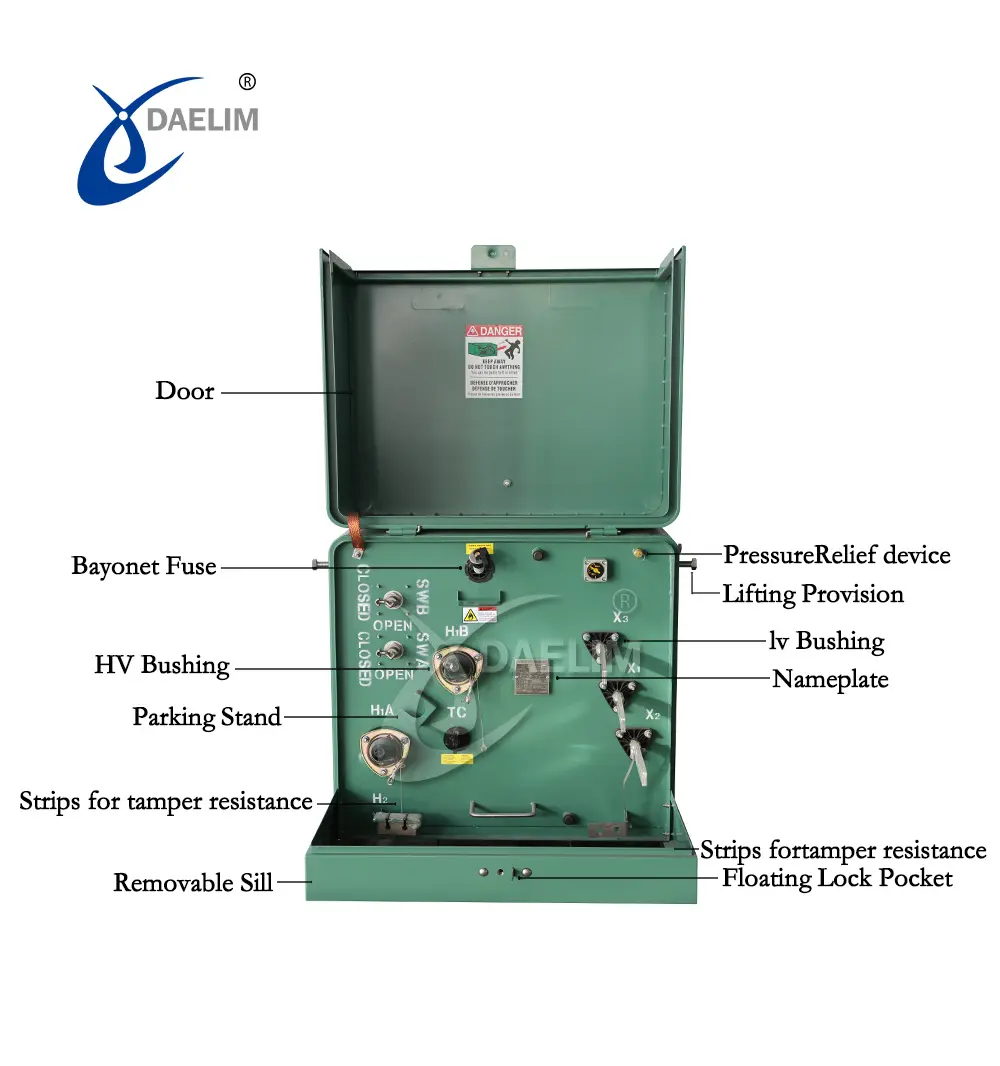 High voltage bushings
Daelim's residential transformer features two internally connected high-voltage bushing wells, namely H1A and H1B, which are equipped with removable studs. These wells are designed for easy connection to the distribution system using separable insulated connectors, enabling safe and convenient dead-front operation. They comply with the dimensional and electrical requirements specified in IEEE 386 standards. Each high-voltage bushing well is provided with a protective cap to ensure its integrity during transportation and storage.
The high-voltage winding's H2 end is internally connected to the tank wall and marked as the external ground terminal (H2). This connection ensures proper grounding for the transformer, enhancing safety and performance.
Get Price
Low voltage bushings
Single-phase pad-mounted transformers with ratings up to and including 100 kVA typically utilize a seven-hole straight spade low-voltage terminal. On the other hand, transformers with ratings over and including 167 kVA make use of a four-hole spade low-voltage terminal. The spade terminals are positioned at an angle of orientation of 30± 5°. These terminals are made of plated corrosion-resistant metal, suitable for connecting copper or aluminum connectors. In the case of stud-type bushings, the low-voltage terminals are made of plated copper, also compatible with copper or aluminum connectors.
The low-voltage neutral is connected to an insulated terminal known as X2, which has a current-carrying capacity equal to that of the other low-voltage terminals.
Get quick Price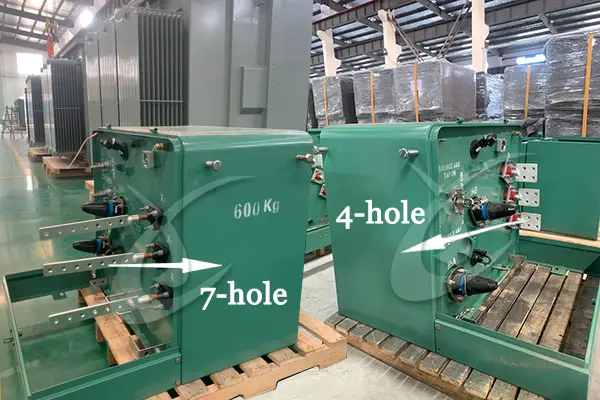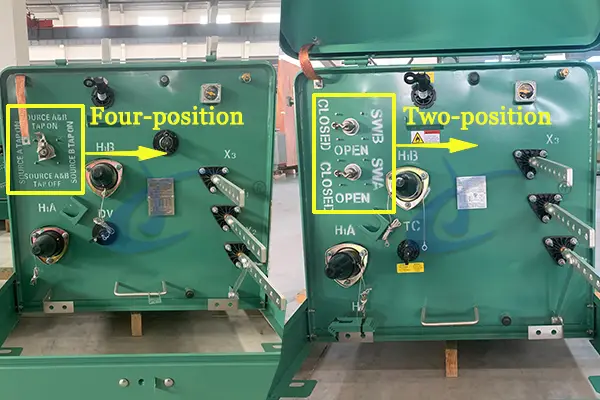 Load break switches
When you purchase Daelim's single phase pad mounted transformer with load break switches, Single-phase, two-position, oil-immersed load-break switches will meet the following requirements:
Hot-stick operable.

Rated 21.9 kV phase-to-ground, 150 kV BIL.

Meets ANSI C37.72 300 A continuous load interruption capability

According to ANSI C37.72, rated at 12 kA, 1 s, fault closed.

19.2 kA asymmetrical, 10 cycle fault withstand per ANSI C37.72.

Operable between –40 °C to 120 °C.
Send Inquiry Now
Residential Transformer Routine Tests
Routine test of daelim single phase pad mounted transformer for the following items:
(a) the ratio on each connection;

(b) polarity;

(c) no-load losses at 105% rated voltage and corrected to 85 °C;

(d) exciting current at 105% rated voltage;

(e) load losses and impedance at the rated current

(f) applied voltage;

(g) induced voltage;

(h) transformer tank leak-detection test
Daelim will provide a comprehensive test report for the single-phase pad-mounted transformer, confirming the completion of all standardized tests. The report will include documentation of energy efficiency in accordance with CAN/CSA-C802.1, DOE, IEEE, and NEMA standards. Additionally, the results of tests specified in Items (c), (d), and (e) will be included. The test report will be signed by a professional engineer or an authorized person, ensuring its accuracy and reliability. Daelim will submit this report for each manufacturing lot of transformers.
Contact Daelim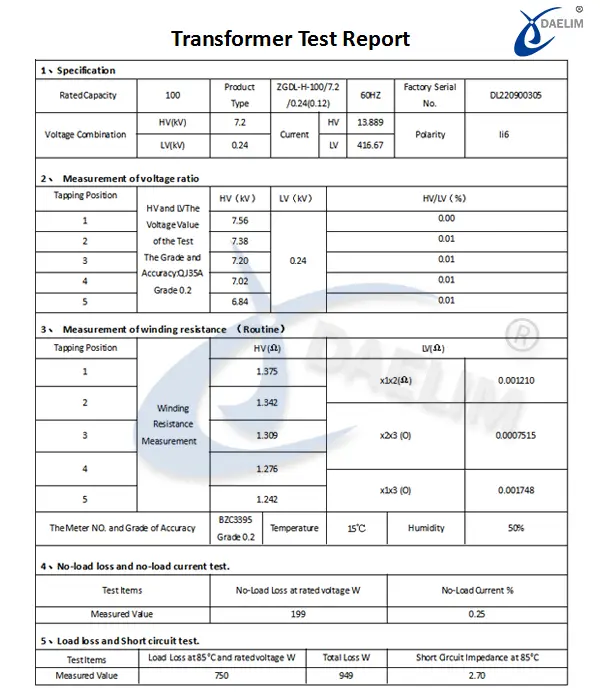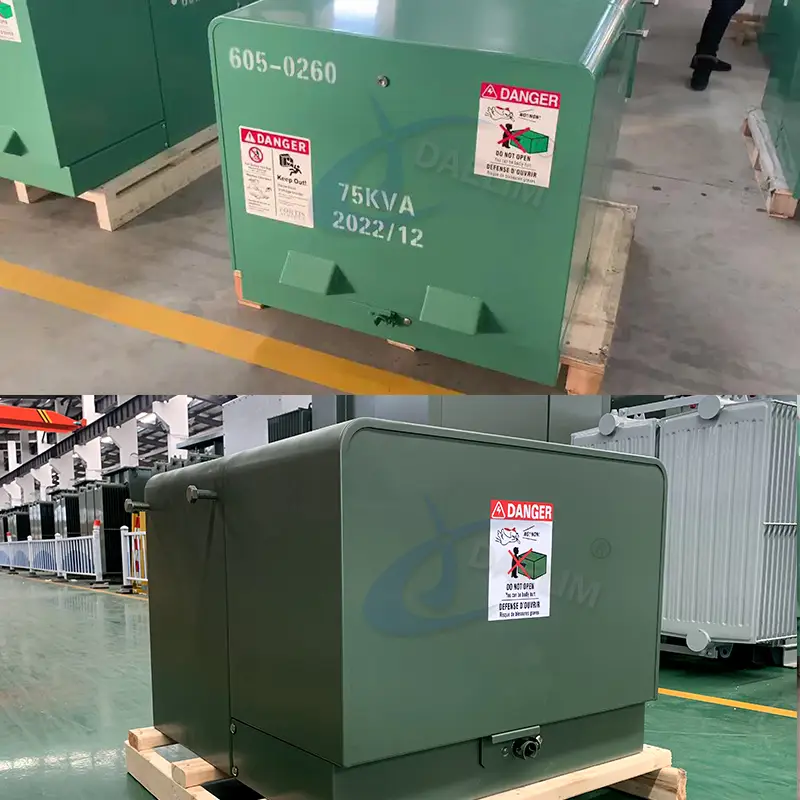 Residential Transformer Type tests
Type testing is conducted to evaluate design features that are not covered in conventional tests. If you have specific test requirements or items that need to be evaluated, Daelim is capable of conducting those tests. Accommodate your requests and ensure that the necessary tests are performed to assess the desired design features.
The following are the standard type tests:
(a) resistance;

(b) temperature rise;

(c) impulse strength;

(d) radio-influence voltage;

(e) short-circuit;

(f) transformer integrity;

(g) audible sound
You can conveniently track the test report and production progress of your transformer on Daelim's official website using your unique order number.
More Information
Residential Nameplate
The following information is shown on the residential transformer nameplate:
(a) PADMOUNT TYPE ONAN(KNAK,LNAN) 60 Hz, 65 °C;
(b) number of phases;
(c) rating in kilovolt amperes;
(d) identification number (e.g., serial number);
(e) per cent impedance at 85 °C (one decimal minimum);
(f) oil volume ;
(g) BIL (basic impulse level);
(h) total mass (including liquid);
(i) rated high and low voltage;
(j) < 2 ppm PCB;
(k) bayonet fuse catalog No. and CLF catalogue No.;
(l) tap voltages as a percent of rated voltage and the corresponding position of the tap switch;
(m) terminal markings, including physical identification and diagram of connections;
(n) year and month of manufacture;
(o) Standard number(CSA,IEEE);
(p) manufacturer reference number;
(q) name of manufacturer and address;
(r) energy efficiency in accordance with standards(CAN/CSA-C802.1,DOE 2016,etc.)
Learn More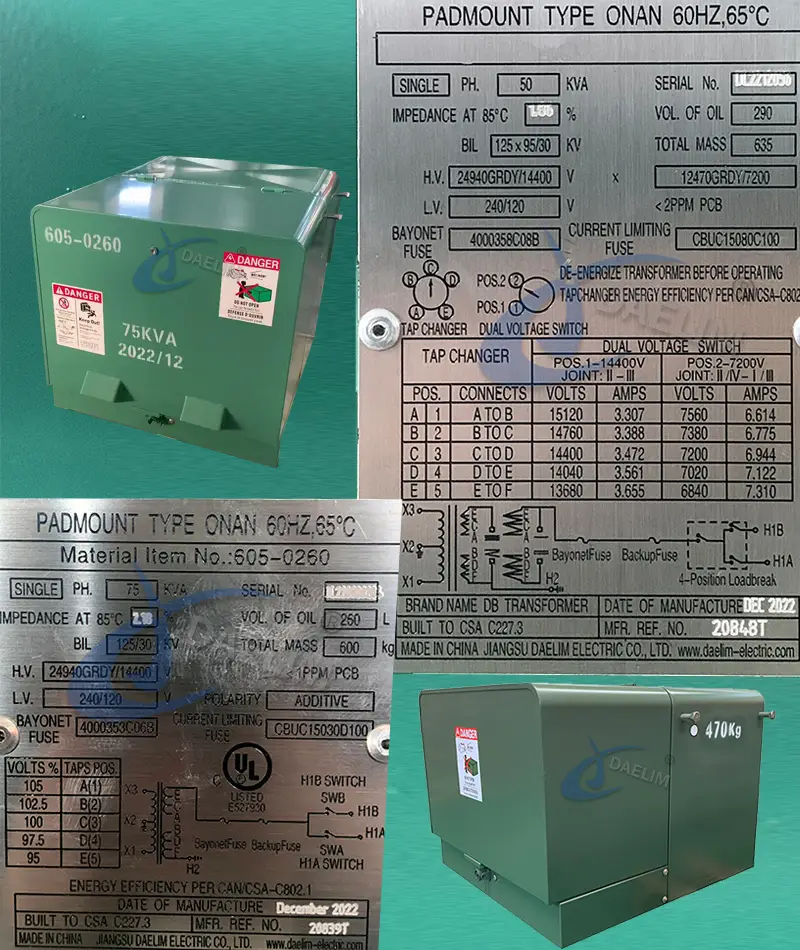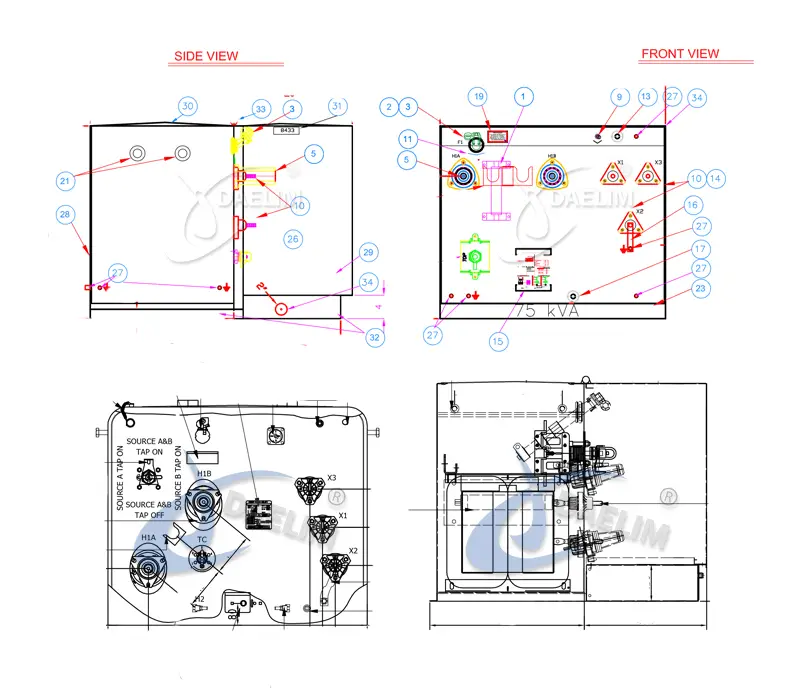 Residential Transformer Outline Drawing
Over the past two years, Daelim has successfully sold thousands of residential transformers to customers in the Americas, spanning a range from 15kVA to 250kVA. As a result, Daelim's engineers have accumulated extensive experience and expertise in designing various types of residential transformers.
When you place an order, Daelim's team will provide you with the outline drawing of the transformer within 1-2 weeks. The lead time for manufacturing the transformer, which begins after confirming the technical requirements and drawings, typically ranges from 6 to 10 weeks.
To ensure transparency and build trust, Daelim offers the option of either a video factory inspection or an offline factory inspection at any time you prefer. This allows you to witness the manufacturing process and ensure the quality of your transformer.
Daelim values customer satisfaction and has a dedicated after-sales team available locally in North America to assist with the installation and provide support and assistance as needed.
Send Inqruiry Now
Residential Transformer Markings
The following information is stenciled on the exterior of the tank inside the compartment using 15 to 25 mm:
(a) high-voltage terminal designations;

(b) low-voltage terminal designations;

(c) DV (dual voltage switch) if present;

(d) TC (tap changer switch) if present;

(e) voltage markings of voltage selector switch positions;

(f) tap position of the tap changer switch in numerals (if indicator plate is provided). The numbering shall be at least 8 mm high;

(g) open and close the position of the load-break switch.
Get Price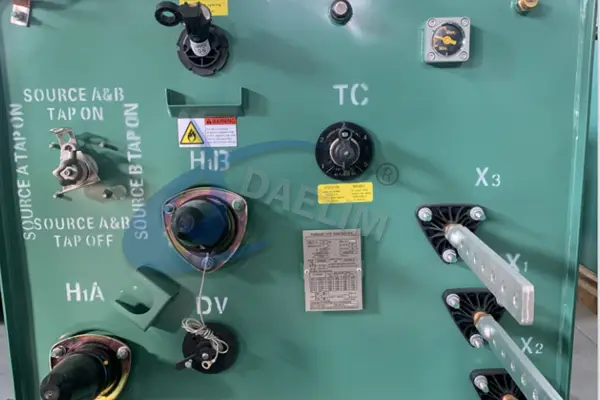 Single Phase Pad Mounted Transformer Packaging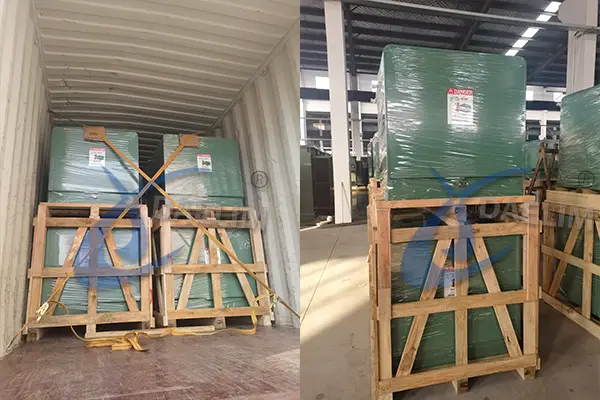 Daelim's single-phase pad-mounted transformer is carefully packaged to ensure safe transportation. It is placed on a wooden pallet and surrounded by a protective wooden frame. Before packaging, the transformer is thoroughly wrapped with a layer of soft plastic film, providing protection against scratches and corrosion during transit.
During transportation, the residential transformers are double-stacked. The lower-level residential transformer is placed on a robust wooden frame, offering superior load-bearing capacity. The upper-level residential transformer is positioned on a sturdy wooden pallet. Both levels are securely fastened with straps to prevent any movement or damage.
Residential Transformer Applications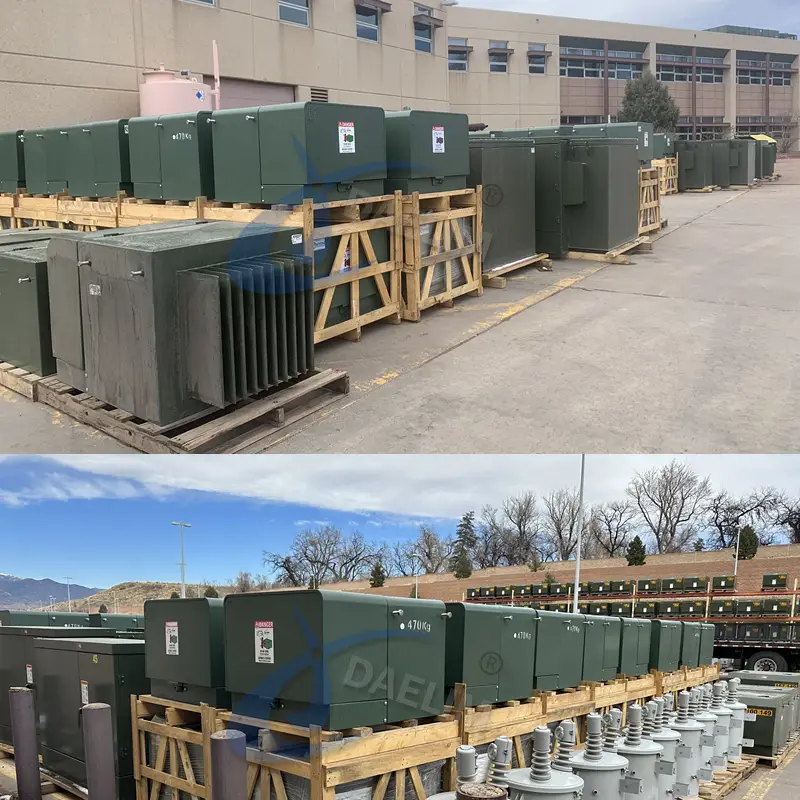 Ultilities and Distributors
Daelim's residential transformers are extensively procured by utilities and distributors across North America in significant quantities.
Send Inquiry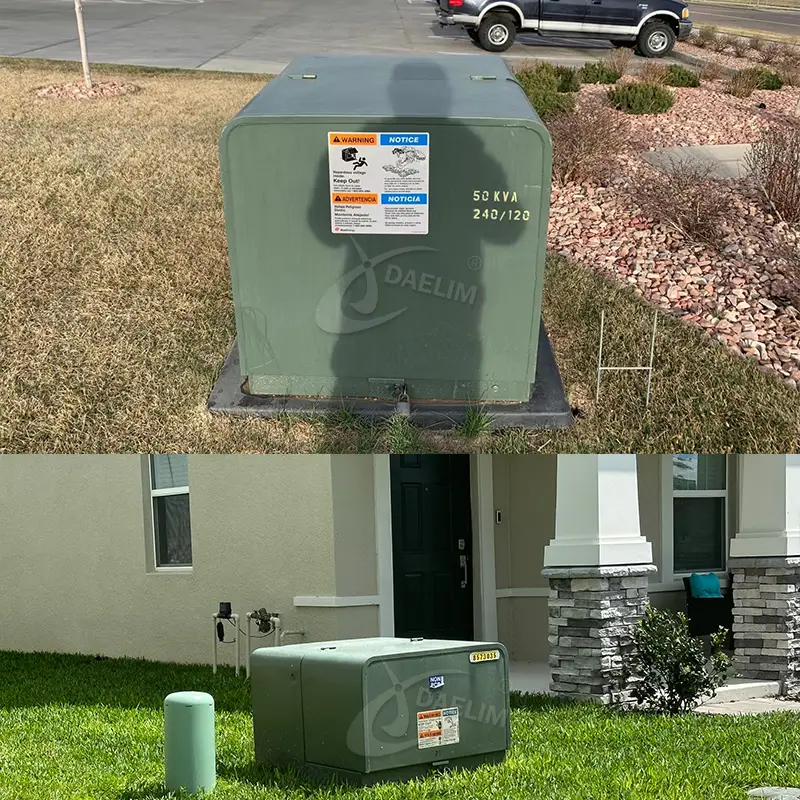 Villa area, Hotel, etc.
Daelim's residential transformers are commonly utilized in various settings, including single-family house districts, parks, hotels, and similar environments.
Send Inquiry