5+FAQ About 15kV Transformer

15 kV transformer is suitable for high-voltage switch cabinets, high-rise buildings, commercial centers, airports, tunnels, chemical plants, ships, and other important or special environments.
Daelim is a professional transformer supplier and we have been working in 15kVA transformer design and production for more than 15 years. We can design according to the requirements of users and provide professional, accurate high-quality transformers.
Get it now: Daelim's International Project Cases
What is

a 15kV transforme

r?
15kV transformer generally refers to a distribution transformer with a high voltage of 15kv and a capacity of less than 5000kva.
Try for free: How Much You Know For The Different Types Of Transformers?
What are the 5 types of 15 kV transformer?
It has different types based on different applications:15kV pad mounted transformer,15kV oil-immersed transformer,15kV overhead single-phase transformer,15kV dry type transformer, and 15 kV single phase pad mounted transformer.
2-1 15kV 3 phase pad mounted transformer
15kV 3 phase pad mounted transformers are also called pad-mounted residential transformers. The characteristics of pad mount transformers are relatively compact structure, small size, simple installation, and easy maintenance.Three-phase padmounted transformer according to the uses, can be divided into the dead front type and live front type. Whether it is dead front type or live front type, it is divided into loop feed and radial feed according to the wiring method.
The pad mounted transformer can be configured with dual voltage according to customer requirements.In addition to 15kv, the high voltage of the pad mounted transformer also has 2.4kV, 4.16kV, 4.8kV, 7.2kV, 7.62kV, 12.47kV, 13.2kV, 22.86kV, 13.8kV, 14.4kV, 24.94kV, 19.92kV, 34.5kV. The pad-mounted residential transformer capacity is up to 5000kVA.
Read more :3 Phase Pad Mounted Transformer-Daelim Belefic
There are many uses of pad mount transformers, such as residential areas, shopping malls, factories, etc. In recent years, the more popular ones are used in Bitcoin mining factories. Many of Daelim's Canadian and American customers purchased pad mounted transformers for bitcoin mines. According to market research and understanding, we found that most of the pad mounted resident transformers used in bitcoin mines have a capacity of 1500kva, 2500kva, 2550kva, and 3750kva.
2-2 15kV oil-immersed transformer
15kV oil immersed transformer performs the last voltage transformation in a distribution grid. It converts the voltage used in the transmission lines to one suitable for household and commercial use, typically down to 240 volts.
At present, oil-immersed transformers are particularly common equipment in the power grid, and more than 70% of them are oil-immersed transformers. Oil-immersed transformers have strong adaptability to the environment, good insulation and thermal conductivity, high mechanical strength, and strong short-circuit resistance. They are generally used in hu, and the most important thing is their low cost. At the same time, oil-immersed transformers also have disadvantages such as transformer oil is flammable, and may burn or even exploding when exposed to flames; oil leakage failures occur; insulation materials will age and reduce insulation performance over time.
Read on: How much do you know about oil-immersed distribution transformers?
2-3 15kV overhead single phase transformer
15kv single phase transformer has a simple structure, small size, and low loss, mainly due to slight iron loss, and is suitable for application and promotion in low-voltage distribution networks with small load density. A single-phase transformer is a transformer in which both primary and secondary windings are single-phase windings.
The overhead single phase transformers are also called single phase pole mount transformers and one-phase transformers. In addition to 15kV single transformer, there are also 12.47kV/7.2kV, 13.2kV/7.62kV, 13.87.2kV/7.95kV, 34.5kV/19.92kV. According to different countries and regions, the use of low voltage: 120-240v, 240-480v , 347v, 600v, etc.The commonly used capacity of single transformers is 15kVA, 25kVA, 37.5kVA, 50kVA, 75kVA, 100kVA, and 167kVA.
Single-phase transformers and single-phase power supply technology are constantly evolving. Over the years, the development of science and technology has promoted the development of single-phase transformers. The application of wound iron core and amorphous iron core technology in single-phase transformers can greatly reduce the core loss of transformers.
2-4 15kV dry type transformer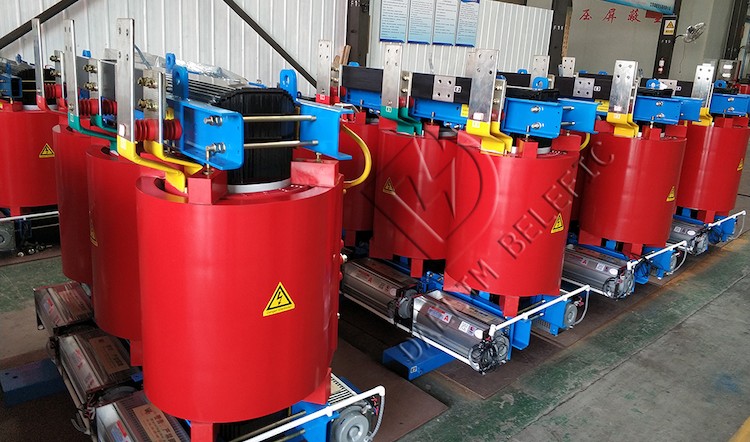 15kV dry type transformer also called cast resin transformer or epoxy resin transformer. Unlike oil-immersed transformers, dry-transformed iron cores and windings are not immersed in transformer oil. The dry transformer structure is mainly composed of an iron core composed of silicon steel sheets and an epoxy resin cast coil.
The dry transformer has the characteristics of fireproof, moisture-proof, explosion-proof, maintenance-free, environmentally friendly, and strong overload capacity, and can only be used indoors. Although dry change has so many advantages, the cost of cast resin transformer is also relatively high, generally, 2-3 times that of the same capacity oil transformer so that you can choose according to your own needs and budget.
Read more: Ultimate guide of cast resin dry-type transformer
2-5 15 kV single phase pad mounted transformer
15 kV single phase pad mounted transformer is oil-filled transformer. The 1 phase pad mounted transformer shape looks like a square box. It has a flip-top cover, which can be opened to see the high and low-voltage sides. Like the 3-phase box transformer, it has high and low-voltage terminals, bay-o-net fuses, backup fuses, tap changers, etc. If 3 single-phase pad transformers are used in parallel, it is equivalent to a three-phase transformer.
Likewise, the high voltage of the single-phase pad-mounted transformer can have dual voltage switches. In areas with a small population density, we can see that single-phase box transformers are placed at the door of every household for their own power supply.
How much does a 15kV

transformer

cost?
We introduced above that there are 5 types of 15kV transformers:
The cost of different types of transformers is also different. The main factors affecting the price of 15kV transformers are:
1. Transformer type.
The cost of a dry transformer is much higher than that of oil transformer, and the higher the insulation level, the higher the cost;
2. Transformer capacity.
The larger the capacity of the same type of transformer, the higher the price.
3. Transformer accessories.
Transformer accessories affect the price. Are the accessories made in China or from internationally renowned brands? If it is made in China, the price will be relatively low, if the international brand such as ABB, Siemens, Qualitrol, Schneider, German MR, etc., the price will be much higher.
4. Winding material.
Copper transformers are more than 30% more expensive than aluminum transformers because the cost of copper is relatively higher than that of aluminum.
5. Transformer efficiency value.
The higher the efficiency value, the higher the price of the transformer. The higher the efficiency value means, the use of silicon steel sheets with particularly low loss, and the price of the purchased silicon steel sheets will be higher.
Keep on reading: Ultimate 500 kVA Transformer For Guide
What is the application of a 15kV transformer?
We know that a transformer is a device used to change the AC voltage, there are step-up transformers and step-down transformers. Most of the 15kV step-down transformers are used in power transmission and distribution systems. The 15kV step-up transformer is mainly used for wind power generation, and both dry and three-phase pad mounted transformers can be used for wind power generation.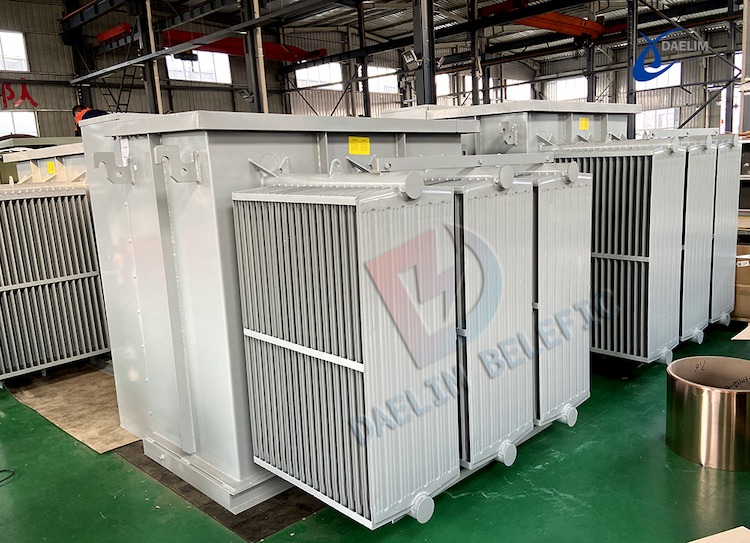 15kV transformer specifications
15kV pad mounted transformer specifications
Standard Ratings
(kVA)

No-load loss(w)

On-load loss(w)

Width(mm)

Weight(kg)

75

180

1250

1280

645

150

280

2200

1280

989

225

400

3050

1280

1195

250

480

3650

1280

1415

500

680

5100

1280

1905

750

980

7500

1730

2755

1000

1150

10300

1730

3235

1250

1360

12000

1730

4050

1500

1640

14500

1730

4200

2000

1940

18300

1730

4600

2500

2500

25500

1730

4900

2750

2600

23600

1730

6300
Learn more: How Do I Choose A 1500kva Transformer In 2022?
15kV oil-immersed transformer specifications
Standard Ratings
(kVA)

No-load loss(w)

On-load loss(w)

Weight(kg)

400

570

4300

1450

500

680

5150

1670

630

810

6200

1960

800

980

7500

2340

1000

1150

10300

2760

1250

1360

12000

3200

1600

1640

14500

3950

2000

1940

18300

4890

2500

2300

20260

6280
15kV dry transformer specifications
Standard Ratings
(kVA)

No-load loss(w)

On-load loss(w)

Weight(kg)

250

840

3460

1280

315

970

4080

1530

400

1150

4850

1660

500

1350

5860

2010

630

1530

6860

2390

800

1750

8280

3060

1000

2070

9780

3410

1250

2380

11500

4010

1600

2790

13800

5030

2000

3240

16300

5980

2500

3860

19600

6180
What is the weight of a 500 kVA transformer?
The weight of a 500kva transformer has somewhat different depending on the type.
The weight of a 500 kVA pad-mounted transformer is about 2600kg
The weight of 500 kVA oil-immersed transformer is about 1800kg
The weight of a 500 kVA dry transformer is about 1985kg
The weight of a 500 kVA single phase transformer is about 1836kg
Read more: How to choose the best distribution transformer?
How do you calculate transformer size

?
To determine the required transformer VA, multiply the secondary voltage by the required amperes. To determine the maximum transformer current, divide the transformer VA by the transformer secondary voltage.
FORMULAS USED IN CALCULATOR:
Phase KVA = Volts x Amps / 1000
1-Phase Amps = KVA / Volts x 1000
3-Phase KVA = Volts x Amps x 1.732 / 1000
3-Phase Amps = KVA / Volts / 1.732 x 1000

The transformers that Daelim can provide for you are all made of high-quality coils, high-permeability silicon steel sheets, high-quality terminals, and other raw materials to ensure that you receive high-quality transformers.
Daelim's Transformer Project Cases
We have offered different types of three-phase pad-mounted transformers and single-phase pad-mounted transformers for the US markets such as US crypto mining farm, Canadian market, Chilean market, Panama market, and Nicaragua market.
In 2016, we provided equipment for substations in Latin America.
We provided single-phase transformers of 2.4kv, 7.,2kv, 13.8kv, and 14.4kv used for a remote village network in Saskatoon, Canada in 2019.
We designed the specific installations to lower the high voltage in 2018 according to the client's request 2018. Daelim will be a professional partner.
---
Related Products
---
Related Article